Cloudstore is a leading art technology (#ArtTech) provider. Our Art-on-Demand solution is built upon our proven Web-to-Print platform with the added high security features and incorporating our unique  Print Streaming technology. All images are stored encrypted within online secure Vault and streamed to printing station with no file footprints left anywhere in the system.
Artist, Publishers or any high value digital image right owners can offer their assets via our Art-on-Demand service to anyone around the world safely and receive royalty calculated by area of prints as defined by the owner. Print streaming technology transfers encoded files via secure tunnel to printing with full control over printers for the print output. This ensure the image cannot be used for reprint and correct royalty is calculated for the size and type of media printed.
With a myriad of built-in controls, the image right owner stays in total charge of the whole process, ensuring top security, high quality and appropriate revenues. New clients for access to images can be added anywhere in the world with a click of a button and the whole operation is monitored from a central online dashboard.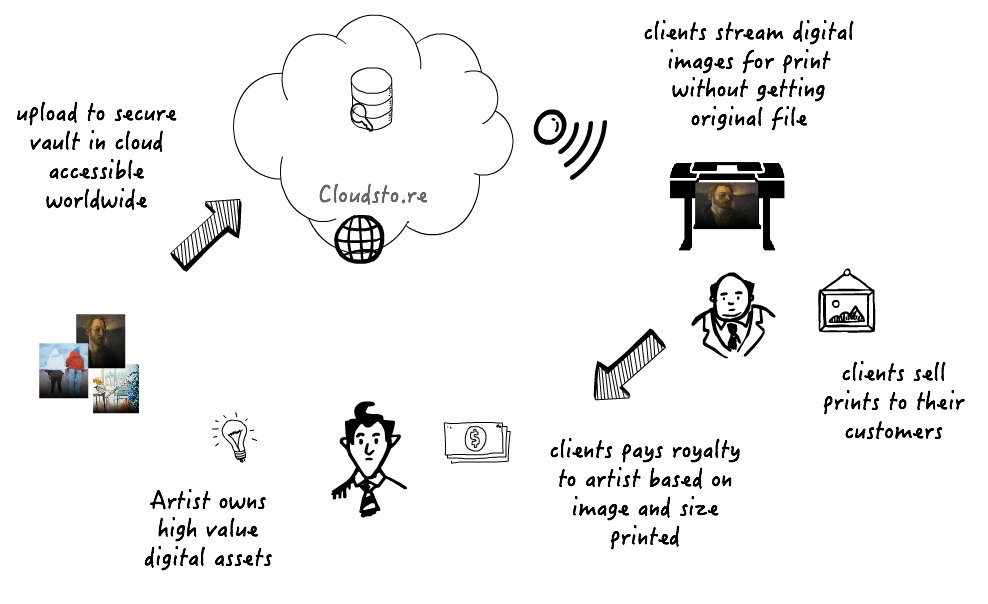 Complete End-to-End — 100%
Define restrictions and pricing  and upload encrypted images to cloud Vault for storage and access by AOD.
Users design a job by browsing and selecting the images online using one of the advanced client app tools.
Create an order for desired size, quantity and accept the price for the selection based on image restriction defined.
Online payment processing for B2C customers or account handling for B2B customers via secure portal.
Job is transferred automatically to printing station. Image for printing is streamed and status reported back.
Image rights owner is allocated the appropriate royalty with various pricing and accounting reported.
Business solution of ArtOnDemand service enables access to art on demand for authorised partners anywhere in the world through a dedicated secure portal.  Large publishers, artists or digital image suppliers can offer art on demand via this service to galleries, print service providers and major customers. Royalty and other payments are calculated and allocated on account with detailed reports and live dashboard access.
Consumer solution of ArtOnDemand involves offering the same service via web to public and processing online payment per order. Using this service anyone on the web can access art and order products to be delivered. Publishers or any individual Artist, Art galleries, Print Service Providers or any online business wishing to offer art on demand to consumers can utilise this service with minimum investment and complexity.
Features
Rich advance client app suit for art market applications
Full control over pricing based on size, media, features
Full control over product offering and features
Full branding and inclusion on your website
Total security and image right protection
Fully end-to-end automatic operation
High quality print and colour management
Complete job accounting and logging in cloud
Sophisticated information management dashboard
Full royalty and remuneration control