Cloudstore W2P solution is ideally suited to offer web to print services for large format print operators. The complete end-to-end solution involves minimal manual input while ensuring the latest print technology is available to customers online. Customers access the service via the web by uploading images and designing an output print job which is then submitted automatically to the back-end printing system via the cloud services.
Our Web2Print solution offers a host of innovative web based client apps for: Posters, Cards, Canvas, Wallart, Metals, Boards, Photo-Album, Frames, Calendar, T-Shirts, Mugs, Textiles and many more applications.
All items are priced based on the product, media and the image used and any additional cost such as transaction or delivery can also be included. B2C customers are directed to online payment which uses various payment processing gateways to accept all major credit cards and PayPal. B2B customers are handled using accounts which can be setup with credit and overdraft facilities.
The jobs are printed using the best advance printing software, ensuring high quality and optimum colour matched output. All jobs are fully logged and recorded in cloud system enabling reports and dashboard access to the current status and past jobs.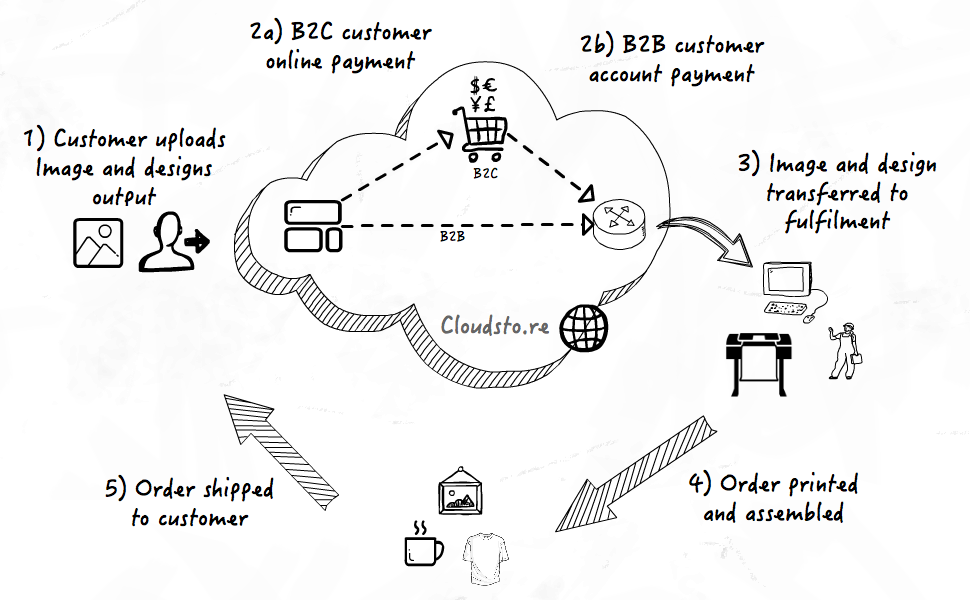 Complete End-to-End — 100%
Upload personal images or select from standard image library for printing.
Design the desired output online by manipulating the image and options.
Create an order for desired size, quantity and accept the price for the selection.
Online payment processing for B2C  or account handling for B2B customers.
Created job is transferred automatically to printing station.
Order printed, assembled and shipped to customer and logs updated.
Business solution (B2B) is ideal for a large supplier or organisation to offer Web-to-Print service to branches, subsidiaries or major customers. The B2B solution utilises an accounting process based on credit and overdraft with full reports and classification. Large Print and office suppliers, chains, corporates with branches, Online printing franchises and many more examples can benefit from this solution.
Consumer solution (B2C) is ideal to offer Web2Print service to online customers by print suppliers of  any size. Small to large print suppliers can quickly get online and offer their own branded online print business.  Print jobs can be sent to in-house or direct to alternative fulfilment centres. Full payment processing for consumer orders online and comprehensive order handling ensures a secure professional service.
Features
Rich advance client app suit for wide market applications
Full control over pricing based on size, media, features
Full control over product offering and features
Full branding and inclusion on your website
Fully end-to-end automatic operation
High quality print and colour management
Complete job accounting and logging in cloud
Sophisticated information management dashboard